Let's be honest – the thought of Hari Raya in just a little more than a week's time is exciting but also rather daunting and hectic right? Usually, it's the preparations that make us all go crazy and slightlymonstrous. Apart from cleaning the house, we have to prepare Raya dishes because what is Raya without ketupat, lodeh and rendang, am I right? Although my mother still doesn't trust me with the cooking, I have pretty much taken over the Raya preparations at home. From scrubbing of the floors to getting groceries for all the cooking, I have made it a point to ensure that Raya preparations are convenient and fuss-free for me, especially since I do not have help. Here's my five tips on hacking Raya preparations so that it may be fun and enjoyable for the young millennial.
Look out for some discounts along with the way, thanks to the FRIENDS Card! (The card that gets you discounts at over 100 halal cafes and restaurants in Singapore now also gets you discounts at online grocers!)
1. Don't panic! Help is easily accessible!
I was raised in a big family, but now that all my sisters are married and have left the nest, I'm left to fend for myself against the demons of cleaning! To keep myself sane, I get help from a part-time cleaner to do all the scrubbing I don't want to or do not have time for. Getting an extra hand to assist you in cleaning is something you should not be embarrassed of.
I used Servis Hero the previous time I needed help with fixing my photo frames on the wall, as well as to do some minor maintenance jobs around the house. You can choose from a variety of help you need, from handyman, plumbing and installation, repairs, air condition servicing, and general house cleaning. You can even get to see the variety of quotes from different service companies and you choose the one that's best for you.   All that time freed up from cleaning up leaves you time for… cooking!
2. First, get your groceries delivered with just a click of a button.
One of the many blessings of technology is that we can get supplies delivered us. I still love my trips to the wet market and supermarket, but one battle I choose not to fight is the part where I have to carry heavy and big items home all by myself. If you don't drive and you prefer not to carry these big and heavy items either, you can use online supermarkets and their delivery services for those heavy items like laundry detergents and cleaning items from Redmart. You can even order fish and halal meat online too!
Order fresh seafood from Hai Sia Seafood
Photo courtesy of Hai Sia Seafood
If you're not a fan of red meat and poultry, get hold of your seafood from Hai Sia so that you won't have to say "haiyah" when your mother asks you to join her for a trip to the wet market. They are also probably the only fish supplier with a halal-certification for the cleanliness of the way they handle the seafood!
Hai Sia Seafood
Area: Jurong
Halal Status: MUIS-Certified

Order your raw cuts of meats
MW Impex

Lamb chops
One of the few Muslim-owned and halal certified meat manufacturers in Singapore, MW Impex provides an array of cuts of beef, mutton as well as poultry. You can get hold of their products at leading local supermarkets, but good news for those of you who are lazy like me! They are taking in orders for Raya and they'll deliver right to your doorstep too.

Chuck tender suitable for rendang
Orders will be delivered by their own freezer trucks. Order via here. Delivery is free for orders above $100.
MW Impex
Area: Jurong
Halal Status: MUIS-Certified & Muslim-Owned

For quick meals when the guests come, order from
Opah Satay
Chicken Satay from Opah Satay
If you're one who loves a good satay but can't be bothered to make them from scratch or grill the frozen ones for your first day of Raya, just order in and make your life a lot easier. Your relatives would thank you for serving food other than lontong and rendang.
Beef from Opah Satay
Satay Party!
They offer delivery services and charges range from $5-$11 depending on which part of Singapore you are at.
Photo from SBYmeat.com
Opah Satay
FRIENDS Discount: Opah Satay offers 5% off the bill for purchases of raw meat made from Tuesday to Thursday.
Area: Kaki Bukit
Halal Status: MUIS-Certified
3. Head to Geylang Serai Wet Market only if necessary
We all have our fond memories of Geylang Serai Wet Market. For me, I have followed my mother for her fortnightly trips there since I was a young girl. I remember eating chendol at the famous Geylang chendol back when it was still the old market – think smelly, rats and dirty. She used to leave me at the chendol stall with $2 while she runs around the market getting things she needed. While it's no longer necessary for my mum to get supplies from Geylang Serai regularly anymore, I make it a point to head there about a week before Raya to get fresh produce and ingredients she needs to make ketupat and lepat. It's always a war zone at pasar Geylang Serai when Raya comes, but I suppose it's always fun to soak up the atmosphere while getting only the necessary. As our elders say, it's not Raya if you don't go to Geylang Serai during Ramadan!
4. Make a conscious effort to #supportlocal this Raya
Recently, there's been a wave of young Singaporeans taking part in the maker movement where more and more young professionals leave their stable and comfy jobs to make it out on their own. The Maker Movement encourages others to create beautiful crafts, clothes as well as food items instead of purchasing them off the rack from major stores.
Aledya's drink capsules
If you'd rather serve non-gasy drinks to your guests and can't really measure to save your life, Aledya's drink capsules are probably the best substitutes. The capsules come in two flavours – passionfruit and assam lime. Simply pour out the contents of the capsules and add in ice and water, stirring before you serve. Delicious, healthier and definitely a lot more interesting than your standard fizzes. You can get it directly from the man who distributes this himself and maybe he'll give you some tips on how to make extra special drinks with these capsules!
Best of all they provide delivery!
Aledya Group
FRIENDS Discount: Aledya offers complimentary tray of capsule drink for every box purchased.
Area: Kaki Bukit
Halal Status: Muslim-Owned

5. Make cooking fun again
There's many ways to make cooking fun when you're cooking for friends and family. When I'm in the kitchen, I blast the radio and dance my feet away when my favourite song comes up. For those of you who are beginners in the kitchen, don't compromise your fun in the kitchen. Have the radio still on, simply use easy to cook with instant pastes and pre-mixes. Every great cook has to begin somewhere.
Batu Lesung Spice Company
The pretty packaging is a sure win for me – but on a serious note, these instant spice pastes are delicious and easy to work with! Refer to their website for some recipe suggestions and make your own alterations along the way. Always remember, there's no perfect recipe unless it's perfect to you!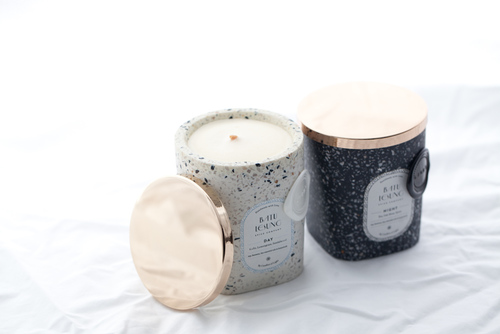 Photo courtesy of Batu Lesung Spice Company
Batu Lesung Spice Company


FRIENDS Discount: Batu Lesung Spice Company offers 15% off for first time customers
Area: Balestier
Halal Status: Muslim-Owned
Here's hoping my recommendations can help you be more stress-free and cool this Raya! 😀 Selamat Hari Raya!